VETERANS

A warrior is defined as a soldier and a soldier is defined as a warrior.
A veteran is one that has served as such. We honor all warrior soldiers and veterans.

Let us not forget that while we partake of bread at home there are those that see that we eat it in
safety. The return of our warriors is always a time of great joy and great honor. However, let us continue to look toward those who are serving. Let us not forget that while we partake of bread at home, there are those that see that we do so in safety.

CRISPUS ATTUCKS, the first to fall in the Boston Massacre, was of Natick Praying Indian and Black ancestory.

The Natick Praying Indian Tribe joins the Boston Equal Rights League each year for their celebration of Crispus Attucks Day (March 5th)

NATICK INDIAN PLANTATION &
NEEDHAM WEST MILITIA COMPANIES

Natick Praying Indian tribal members contribute to the re-enactment of the Boston Massacre each year as Crispus Attucks and participants with professional historical re-enactors.

For extensive facinating historical information go to the Natick Indian Plantation and Needham West Militia Companies

PRAYING INDIAN VETERANS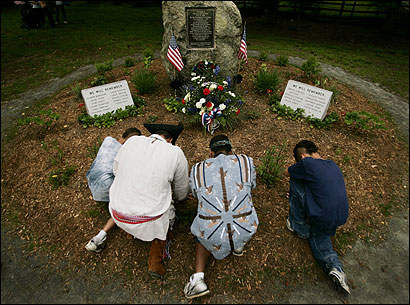 Boston Globe / David Kamerman Photo - Indian Marker Dedication - June 2006
In 2006 dedication at the Natick Praying Indian Burial Grounds & Wamsquon Association Memorial Marker to the Natick Praying Indians of the Revolutionary War.

The Natick Praying Indian Tribe thanks John MacGillvary, Executive Director of the Natick Department of Veteran Affairs and Veteran Warrior Dave Jocelyn Bright Feather of the M'ga mac ( ) Nation for their efforts in this dedication and honoring.

Many notable Native Americans have defended their home land from Metacom to the World War II code talkers.

The Natick Praying Indian Tribe proudly presents its Veteran's song honoring all wars of the country in which Native Americans and veterans fought. The Natick Powwow honors veterans of all wars at the beginning of its ceremony. We invite ALL veterans and their families to come and participate. Honoring of veterans is to the sacrifice of the brethren. In this are there no politics.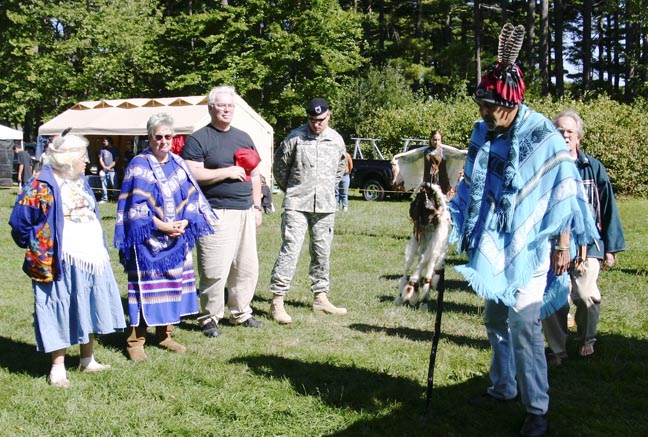 John MacGillvary, "Big Warrior," former Executive Director of Natick Veterans
Department (center) stands honoring Veterans at the Natick Praying Indians Powwow.
THE WOUNDED WARRIOR

Let us be reminded that the wounded warrior and those who have lost their lives are of the supreme sacrifice in willingness to lie down their lives for their friends. Their gift for us to remain safe and protected is not equaled. The physical losses to our men and women are losses to us all. Greet and aid each with the dignity to which they have earned and do deserve. Throughout, know that although most battles scars are evident that many are not. A physical loss is always accompanied by an emotional loss as well. However, there are scars unseen. Bear in mind what our soldiers may have witnessed and have the understanding worthy to their sacrifices.

VIETNAM VETS

The time passed of a war does not negate the reality of its existence. Many of what people may pass on the streets as transients, are in fact Vietnam war veterans still suffering the post traumatic stress of life. The experiences of a man become the fabric to his life. The difference between you and the man you pass on the street and term "a bum" may be that they have experienced things so that you would not have to that have forever altered their life. Change from your pocket, supporting kitchens and homes, supporting programs and even saying a prayer, whether you consider it your "Christian" or "civic" duty, it is the "human" thing to do. It is your contribution to a healing that forever looks toward peace. Take your part in what your community provides for the Vietnam Veteran as well as to all veterans for what it truly is, a service to the veteran at all stages of their war… a war that may forever wage itself in the mind.
I am certain when these were young men battled in the jungle and battled fear… as children themselves, they never expected there would be a time of being forgotten or that the golden years of their lives would be spent homeless and alone. If one man or women is forgotten because of time, then it is one too many of our unsung heroes forgotten.
There is a "Moving Wall" Vietnam Memorial that lists all of the soldiers that died within the war. Place within your heart a "Living Wall" honoring All Veterans of All Wars, acknowledging our willingness to remember, support and love in hopes that there will one day be no more war. As a human being it is to be recognized that all are a mother's son or daughter. As a spiritual being it is to be recognized that all men are brothers. Therefore every loss, every where, is a loss for mankind and a sadness to God.
Several years ago a good friend of mine died. He had been suffering for months battling cancer himself. One of the last things he said to me was "Remember the Vietnam Veterans." Rick, I have…
Note:

Post Traumatic Stress Disorder

(PTSD) is a reality of many veterans of war. As well as combat related PTSD, throughout the world there are millions of people suffering the PTSD of abuse, neglect, the effects of

natural disasters

and in every area where a person has no control over overwhelming surroundings. We ask our

brothers and sisters

blessed to have been spared this suffering, to aid those in need whenever possible and to hold these

brothers and sisters

up in prayer always.